News
News from FYL!
Feb 28 2015
Donate Today!

Anyone who makes a donation to Find Your Light will be entered into our drawing. You could win a VIP Concert Experience, Signed Merchandise, and much, much more. Ends at Midnight on March 13!
What's Happening?

Any donation you make to Find Your Light between now and March 13 will enter you into a drawing to win a host of amazing prizes – including a VIP Concert Experience with Josh, Signed Merchandise, and much more!
Where to donate?
Click Here to go to the Find Your Light Foundation Donation Page. Each donation made will go towards ensuring every child has a quality arts education.
No Birthday Auction?

Josh wants to put focus on the serious need for quality arts education in a new way this year – the greatest gift he can receive is a donation to his Find Your Light Foundation.
Drawing will take place the week of March 15th and winners will be notified by email. No donation necessary. You can enter the drawing up to once per day with multiple donations. To enter drawing without making a donation, email info@findyourlightfoundation.org with "Drawing Entry" as the subject and include your contact information. Begins on 2/22/15 and ends 3/13/15. Must be 18 years of age or older for drawing entry.
---
Watson Elementary Technology Center of Math and Science Helps FYL!
Nov 20 2014
Miss Todd's energetic class of kindergarteners from Watson Elementary School in Texas decided to have a cookie bake sale to benefit FYL. All proceeds were donated to the "Harmony Project" in Los Angeles. Josh sent lots of pizza over last week with a personal video message to say thanks for their hard work! Check out a video Miss Todd sent from their party!
 Here are some pictures too!
---
Josh visits Chalmers Elementary School!
Nov 11 2014
Check out Josh's first visit to Chalmers Elementary School, a low-income school he adopted for a partnership with Turnaround Arts, and a school supported by the Academy for Urban School Leadership (AUSL)!
Turnaround Arts is a national program by the President's Committee on the Arts and the Humanities, in coordination with the White House and First Lady Michelle Obama, the U.S. Department of Education and several foundations, to bring arts education programing and resources to the highest-poverty, lowest-performing elementary and middle schools in the country. It is based on the premise that high-quality and integrated arts education can strengthen school reform efforts, boost academic achievement and increase student engagement in schools facing some of the toughest educational challenges in the country.
Turnaround Arts currently works in 35 schools across the country, in 25 school districts and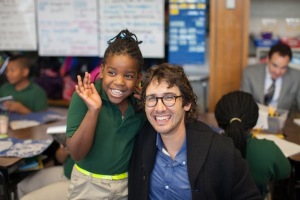 11 states. As part of Turnaround Arts, PCAH and its partners provide these schools an array of arts education services, resources and materials designed to increase their chances of success, engage their community and raise the visibility of their achievements. Key to these efforts is building arts education programming that is rigorous, effective and integrated into the school, as well strategically used to target larger school challenges. The program works closely with each of the schools throughout the year to help them plan and implement their programming and ensure its quality and impact.
Each school in the Turnaround Arts network receives:
The designation of a high-profile artist who will work with the school to increase student and community engagement and promote local visibility for the school;
Arts supplies, licensing rights for school musicals and musical instruments;
A national summer conference for school teams;
Funding to bring local teaching artists, community arts education and cultural organizations to work in the school;
Training in using the arts to aid school improvement, including best practices, case studies and model lessons;
In-school professional development in arts integration during the school year;
An annual 5 Essentials school improvement survey tool administered by the University of Chicago; and
A summative research evaluation of the program after each year.
Interim evaluation results on the pilot phase of Turnaround Arts schools showed that participating schools demonstrate improved academic performance, increased student and parent engagement and improved culture and climate, often outperforming comparable schools in their district or state.

Watch Josh visit with the students at Chalmers Elementary School!
The Academy for Urban School Leadership is a Chicago nonprofit school management organization that creates schools of excellence by developing highly effective teachers and transforming educational outcomes for students in the lowest performing schools. AUSL was founded in 2001 and today manages 32 Chicago Public Schools serving more than 18,000 students. Over 750 teachers have graduated from the AUSL Chicago Teacher Residency. Chalmers School of Excellence is lucky to be one of the schools supported by Academy for Urban School Leadership.
---