News
An update from Young Shakespeare Workshop and Message from Josh!
Nov 03 2014
Happy November!!!
It is with great pleasure that we share an update from a group we have worked with over the years from the Seattle area known as the Young Shakespeare Workshop. The Find Your Light Foundation made a donation to the Young Shakespeareans Workshop in the amount of $3,000 at the end of 2013. This money was put entirely into an after-school performance project at Cleveland High School in Seattle (a low-income public high school which has no theatre department). The project began in October 2013 and concluded in May of 2014. The Not As You Like It project was centered on Shakespeare's As You Like It.  After making some cuts to the text and adding some additional creative layers, a grand performance was seasoned and ready to be shared with an audience; with the help of Find Your Light and some outside grants, these students were able to collaborate an incredible 143 times for rehearsals and preparations before their final production.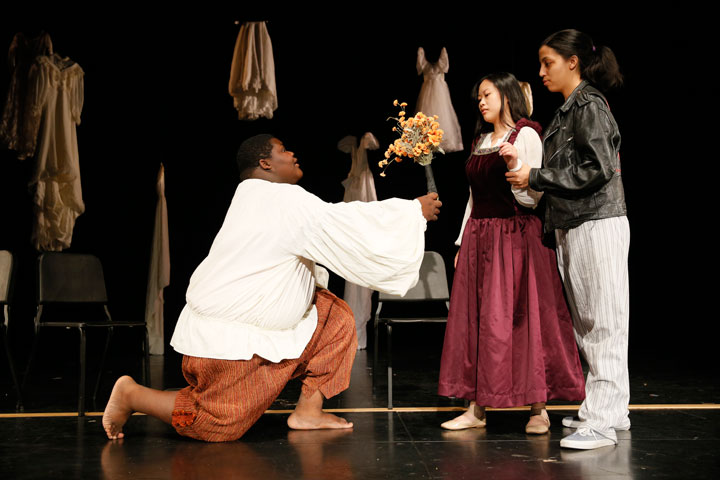 A Message From Josh: 
I am so happy that this unusual and inspiring adaptation of such a great play was made possible by FYL and YSW. It's the collaborations like this that make out of the box creative thinking a reality and I look forward to hearing about what you cook up next!!
Below are some of the comments received from the teacher and the actors!
From Catalin: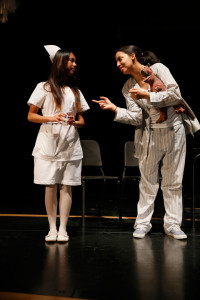 I'm a junior in high school and I had a wonderful experience with the Young Shakespeare workshop… I was really scared that I wouldn't do well on stage but after being with the crew and our amazing coach Darren, things started to really settle down and went easy… This program is one of the best… I had a wonderful experience with the Young Shakespeare Workshop.
From Darren Lay, actor, teacher, and director of young students:
The project Not As You Like It was centered on Shakespeare's As You Like It. We imagined a young woman in a psychiatric ward imagining herself as Celia from Shakespeare's As You Like It. She in turn imagined that Celia had not in fact escaped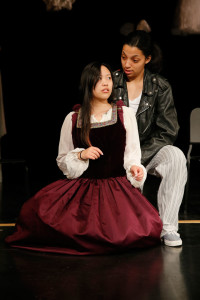 to the Forest of Arden but was captured with Rosalind, her best friend and banished cousin. She further imagined that Rosalind had been executed as was threatened and that Celia, the daughter of the Duke, was then institutionalized. Our patient imagined herself as Celia imagining what would have happened if she and Rosalind had escaped.
Our version began with a single wedding dress eerily suspended at the center of a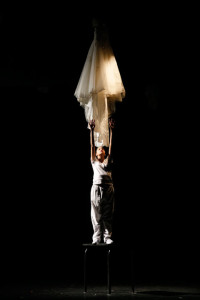 darkened bare stage. As music plays, the dress rises up revealing the young patient striding forward from behind it to the front edge of the stage where she slams down a large book (a complete works of Shakespeare) abruptly halting the music and begins the play with Rosalind's line "Love is merely a madness, and I tell you deserves as well a dark house, and a whip, as madmen do…"
We are very proud of how the project turned out, and we thank FYL so much for making it possible, without your gift of support it would simply not have happened.
From Brittany:
Being a part of the Young Shakespeare Workshop's production of Not As You like It was an experience I will cherish forever… I learned so much about Shakespeare and word play through this time. Peradventure is now one of my favorite words! I learned what it meant to take normal reactions and moments and make them huge! That definitely pushed me out of my comfort zone and I'm really glad it did because it showed me a side of myself I never knew I had. This experience reminded me how much I love acting and introduced me to another big love of mine and that is putting a production together and watching (or being a part of it) it all come together. I'm so thankful for this experience. I love the people I got to work with, they were amazing and an amazing support system especially during some hard times; I'm glad I now call them friends. I am so thankful for the experience because I not only grew as an actor and learned more about the art. But it created great friends for me and helped shape parts of myself that of course makes me the person I am today.
Detailed Project Summary From YSW: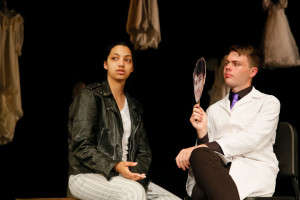 Not As You Like It was a one-hour (perfect for in-class performances) "deconstruction" of Shakespeare's As You Like It… A student suggested an idea which became the framing device for our project which proved actually very revealing of the text and creatively satisfying. This was to build on the idea of disguise and layers of identity, already complicated enough in the original play, by constructing our cut and presentation of the text as seen through the perspective of a patient in a mental institution who imagines herself as Celia from As You Like It–but as a Celia that is caught in her escape to the Forest of Arden and in turn herself institutionalized (her cousin and best friend Rosalind executed as an enemy of the state) and is now imagining what might have happened had she been successful in running away to Arden.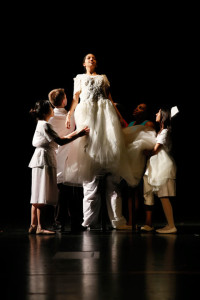 Artistically, we were able to achieve one of the highest levels of excellence in performance with our veteranperformers as well as our newcomers. Three performances were given during the school day and one evening performance open to the public, family, friends, and parents. Cast members were very excited and of course somewhat terrified…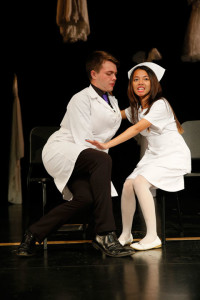 From Ally:
I had the best time of my life in the Young Shakespeare Workshop. I love Shakespeare with all of me and I would want to always be a part of it. Thanks a lot for the experiences…
THANK YOU,
Young Shakespeare Workshop, for sharing in this success! Your work and dedication is inspiring!!! To learn more about the Young Shakespeare Workshop or to discover ways you can help, click HERE!
---
The Motto of the Hobart Shakespeareans is "There Are No Short Cuts".
May 16 2014
Josh and Find Your Light are sending a huge thank you to all those who participated in the birthday auction. Its success far exceeded our expectation, our gratitude is beyond measure. Know that your generous gift is helping to change lives. The motto of the Hobart Shakespeareans is "there are no short cuts". The dedication of these children, third, fourh and fifth graders at Hobart Elementary school, was evident last week when we attended their performance of Shakespeare's Cymbeline. The play, with musical interludes was pure magic!!!!! There are lessons to be learned from them, if you haven't done so, check out hobartshakespeareans.org. Thanks to your support, arts education and importantly the life lessons for success participation in the arts bring are alive and well in Mr. Esquiths classroom!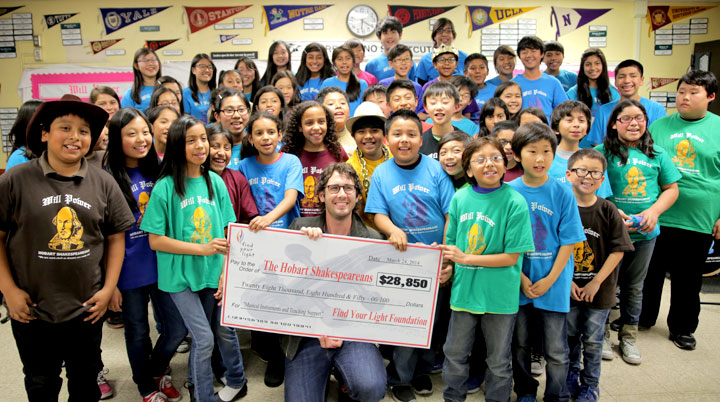 ---
Josh's Birthday Auction is in Progress!
Feb 19 2014
Josh Groban's birthday is in a few days! In honor of Josh's bday, Grobanites for Charity are hosting an auction and donating all funds to Find Your Light Foundation to benefit Hobart Shakespeareans in Los Angeles!!!
Check out the auction and check out the incredible Hobart Shakespeareans program. As always, thank you for your support!!
---