News
The Motto of the Hobart Shakespeareans is "There Are No Short Cuts".
May 16 2014
Josh and Find Your Light are sending a huge thank you to all those who participated in the birthday auction. Its success far exceeded our expectation, our gratitude is beyond measure. Know that your generous gift is helping to change lives. The motto of the Hobart Shakespeareans is "there are no short cuts". The dedication of these children, third, fourh and fifth graders at Hobart Elementary school, was evident last week when we attended their performance of Shakespeare's Cymbeline. The play, with musical interludes was pure magic!!!!! There are lessons to be learned from them, if you haven't done so, check out hobartshakespeareans.org. Thanks to your support, arts education and importantly the life lessons for success participation in the arts bring are alive and well in Mr. Esquiths classroom!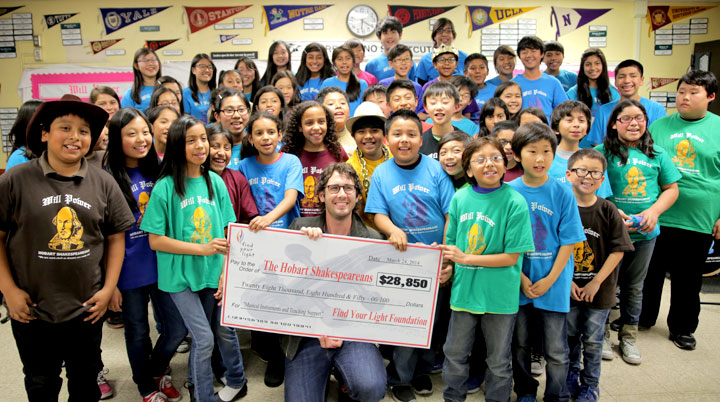 ---
Josh's Birthday Auction is in Progress!
Feb 19 2014
Josh Groban's birthday is in a few days! In honor of Josh's bday, Grobanites for Charity are hosting an auction and donating all funds to Find Your Light Foundation to benefit Hobart Shakespeareans in Los Angeles!!!
Check out the auction and check out the incredible Hobart Shakespeareans program. As always, thank you for your support!!
---
Josh Groban Delivers Instruments with Little Kids Rock on behalf of the Find Your Light Foundation!
Feb 05 2014
Josh Groban's Find Your Light Foundation made a generous donation to Little Kids Rock. He joined some of the Little Kids Rock staff in delivering brand new instruments to PS 34's Modern Band program in New York City, and had a great time watching the kids rock out on stage! They even played Groban's single, "Brave."
A few students even gave the singer/songwriter/percussionist/pianist a Little Kids Rock-style lesson on the keyboard, which turned into a mini jam session.
Little Kids Rock is a nonprofit organization that transforms children's lives by restoring and revitalizing music education in public schools nationwide.
Little Kids Rock was founded in San Francisco in 2002 by David Wish, an elementary school teacher who had grown frustrated with the lack of music education funding at his school. Today, Little Kids Rock is one of the leading nonprofit providers of free lessons and instruments to underprivileged children in US public schools, and has served nearly 250,000 students at over 1,700 schools in 25 cities nationwide.
More information about Little Kids Rock can be found at: www.littlekidsrock.org.
---